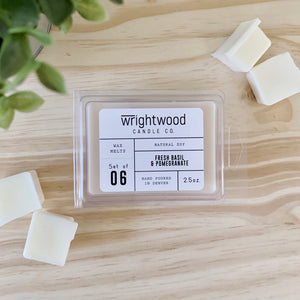 Wax Melts • 2.5oz
Sale price Price Regular price
Love our candles, but don't want to "feel the burn?" Cheesy, I know. We created wax melts to match our Signature scents!

Wax melts are an extra safe way to enjoy our fragrances. Simply break off a chunk or two of wax and add them to your candle warmer. Because the tarts have no flame in direct contact with the wax, the scent will be dispersed quickly covering your space with a beautiful aroma!

Each wax melt tart is hand poured in small batches and made to order using all-natural soy wax and phthalate-free, high quality fragrance oils.

Burn Time: Approximately 6 hours per chunk. 36 hours per tart.