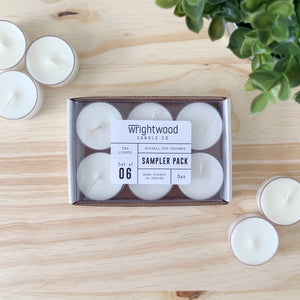 Tealight Sampler Pack • 3oz
Sale price Price Regular price
Can't decide which candle you may like best? Don't worry, we have you covered!

Our tealight scent sampler comes with six tealight samples of your choice! You can find the notes for most of our scents here.

The tealights are .5oz each giving you 3oz total. Given their size, please note the scent throw will be light when burning.

Each tealight is hand-poured in UL approved flame retardant plastic cups, labeled with their scent, and is packaged in a white box with a clear acetate cover.

Burn Time: 4-5 hours per tealight. 24-30 hours per box.

*These scents may be retiring - quantities may be limited or unavailable.