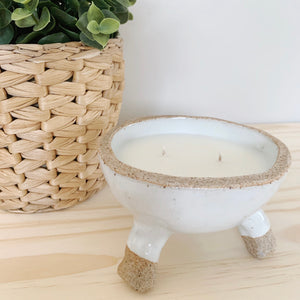 Double Wick Ceramic Candle
Sale price Price Regular price
Important Note: Our current inventory has texture on them. If you'd like to see a photo first, please send us an email.

Wrightwood Candle Company and Pazful Designs have collaborated to bring you a soy-coconut wax ceramic candle. The candle is poured into a handmade bowl that is food safe and waterproof. Candles and pottery are handmade and hand poured in Denver, CO.

How to re-use:

Once 1/4 inch of wax remains, place the candle in the freezer for about 20-30 minutes or until the remaining wax hardens. Use an object (ideally not metal as it may scratch) to remove leftover wax and wicks. Wash with soap and warm water.

If you are local to Denver, we can re-fill it for you for a $10 charge with your choice of fragrance. Otherwise, add some pebbles at the bottom and use it as a planter, a bowl for dip, or a place to throw knick knacks. Lots of options!

Measures approximately 4 1/2" W x 3" H with a burn time of 12-14 hours.

Don't see a scent you like? Let us know!