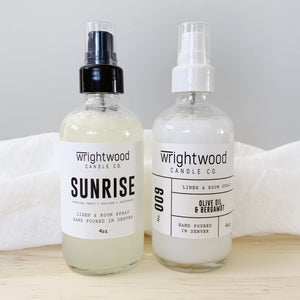 Linen & Room Spray
Sale price Price Regular price
Freshen your room & linens all while eliminating odors & leaving behind a fantastic fragrance. Great to use in your home​, office, ​or on the go!


Our Linen & Room Sprays come in a 4oz glass bottle with atomizer ​and ​cap.
As shown, the atomizer color is white for all scents aside from our wood wick scented options.

Directions:

​​Please give your Linen & Roo​m ​Spray a​ couple shakes before using.
The milk​y​ color occurs naturally and can vary based on fragrance notes.​ 
If spraying on carpet or furniture, please patch test first.
May become slippery on floors.
Keep out of reach of children and pets.
Do not store in direct sunlight.


Ingredients:
Water, Natural Odor Counteractants (zinc and quaternary ammonium salts), Denatured Alcohol, Polysorbate 20 (emulsifying agent), Fragrance