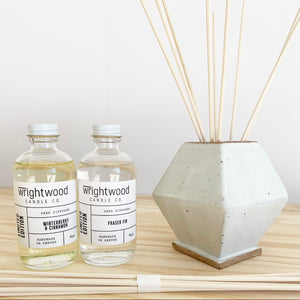 Ceramic Reed Diffuser
Sale price Price Regular price
In collaboration with Pazful Designs, our ceramic reed diffuser is perfect for those that want to enjoy constant scent with minimal effort. They are a great, stylish way to freshen up your space!

4oz. diffuser mixed with phthalate and paraben-free fragrance oils

9 all-natural and responsibly harvested rattan diffuser reeds

Non-toxic and VOC compliant in all 50 states
Directions:
Remove cap from diffuser bottle and pour contents into ceramic vessel.
For stronger fragrance throw, use all 9 reeds. Otherwise, less can be used if you want more subtlety or it's in a smaller area.
Flip reeds every couple days to diffuse the scent throughout your space.
Be sure to place your diffuser in a safe place where it won't be knocked over causing spills or leaks.
Once you are done enjoying your diffuser, please feel free to wash it out with warm water and soap. Reuse it as you please or contact us about purchasing a refill :)
*Due to the handmade nature of this item, there may be slight variations between pieces*
If selecting gift wrapping:


Each box includes white crinkle paper and is wrapped in twine (see photo below)
If shipping, the ceramic vessel and diffuser bottle will be wrapped in tissue paper before being placed in the box for added protection. Extra cushioning will be around the gift box before it goes inside the shipping box.